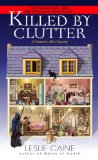 Killed By Clutter is the 4th novel in Leslie Caine's Domestic Bliss Mysteries. Erin Gilbert is heroine of this fairly new series. By trade Erin is an interior decorator, this time she has been hired to make client's house livable, but first she has to get rid of the clutter. That can't be done in a timely fashion because death follows her. Other books in the series are Death by Inferior Design, False Premises, Manor of Death and Fatal Feng Shui. This series has home decorating tips. Author Leslie Caine is a certified interior decorator.
Visit Amazon.com for more information about Killed by Clutter (A Dell Mystery)
Watkins Laundry detergent is earth-friendly and highly concentrated. Up to 80 loads with one box. It is gentle, dye and fragrance free and has fabric softening action. Item # 06738.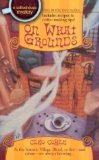 Author Cleo Coyle has written seven Coffeehouse mysteries. On What Grounds is #1 in the series. Next are Through the Grinder and Latte Trouble. Coyle's novels are satisfying quick reads with recipes. Culinary cozies have never been so much fun! Protagonist Clare Cosi has a pretty head-strong daughter who is a up and coming chef, a handsome ex-husband who won't go away and an almost sweetheart with issues.
Visit Amazon. com to find out more about
On What Grounds (Coffeehouse Mysteries, Book No. 1)
When brewing coffee put a pinch of Watkins Organic Cinnamon in your coffee basket. Item #01115.