Watkins Lemon Shea Butter Cream Body Cream
*O Magazine loved Watkins Lemon Shea Butter Body Cream.
*Editors at Body+Soul featured Watkins Lemon Shea Butter Body Cream in their Stuff We Love: Under $10 section.
96-97% natural. Ideal for rough areas including heels, knees and elbows. Comes in a handy tube.
Click photo for more information.
Item # 40509
Certified by the *Natural Products Association!
Natural shea and cocoa butters and a delicious lemon fragrance.

Want Compliments On Your Skin?
Get enough sleep. Take a short nap when baby does.
Drink 6 to 8 glasses of water a day. It's said to plump the skin.
Eat an apple. It satiates hunger and helps to keep you regular.
Use sun screen in the winter, cause the sun still shines.
Use a mild exfoliate for gentle buffing. Don't assume more is better.
If you are staying home smooth a little Vaseline or other moisturizer on your face.
Remove makeup before going to bed. If you forget, get up and do it.
Smile! If we are going to get lines, they may as well be smile lines.

Sharp Minds Play Games :-D
(interactive online games)

Test your skills
Winter: Cold Lake Jigsaw Puzzle


Helpful Links & News
Inactive adults can reverse poor health with exercise

Researchers at Duke University Medical Center have found that the negative effects from living a sedentary life can be reversed by participating in moderate exercise.

The participants in the study who had shown the most decline from physical inactivity also showed the greatest level of improvement once they embarked on programs of moderate physical exercise, say researchers.

Participants in the study did not change their diets, so change was attributed directly to exercise and not to change in food intake.

"The good news is that a small amount of physical activity can make a big difference in reducing risks for developing such conditions as heart disease, strokes or diabetes," says Duke exercise physiologist Jennifer Robbins. "Our findings demonstrate that while the cost of choosing a sedentary lifestyle can be high, switching to an active way of life can be beneficial at any time."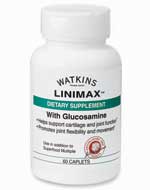 No. 02266 in Watkins Catalog
Watkins Linimax™ Feel the difference.
As we age, we may lose the cushioning in our joints, which can lead to stiffness.Glucosamine helps to keep joints cushioned and well-lubricated—but we didn't stop there.*We've added protective antioxidants, along with herbs shown to reduce the body's production of pain-causing compounds.

Item # 02266 (60 caplets, 30-day supply)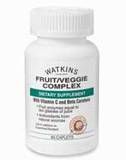 No. 02268 in Watkins catalog
Watkins Fruit/Veggie Complex™

Getting your fruits and vegetables has never been easier.This supplement contains 41 varieties of fruits & vegetables, all-natural mixed carotenes, vitamin C equal to 4 glasses of juice and potent fruit enzymes equal to ten glasses of juice—all in one convenient bilayer caplet—and without sugars and sodium. Item #02268 (60 caplets, 30-day supply)


Interesting Sites
Digital Women Get help with your start-up, from social networking to business mentoring to doing business with other women-owned businesses
The Dolans Ken and Daria give you the money straight talk, from banking and debt reduction to shopping
Frugal Village The title says it all. Great articles, plus a community forum.
Green Diva Mom Become a green diva with help from this site. iParenting Parenting information for before and after baby is born
Kaboodle Product reviews by everyday shoppers
Living On A DimeLiving frugal does not mean depriving your yourself or your family
Savvy Mommy Product picks to help solve parenting challenges
WAHM (work at home mom) online magazine for Work at Home Moms.


Guide little ones to appropriate-age TV
This list is monitored, however, if a bad link slips through please contact me, go to About ABC and send form. Remember always check sites before you let your little one click the URL.

Click on the Face Book badge below to follow me on FB. Just type ABC in the message!
Vannie Ryanes
Enjoy your visit.